Caregiver Training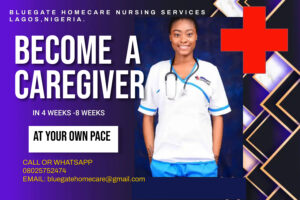 Who is a caregiver?
This is a person involved somehow in the caring for, or otherwise assisting, an older person, someone with temporary or permanent disabilities with health and daily life activities.
Caregiving As A Career
Even though you have giving it a deep thought to become a caregiver, you should know that it takes a special person who is willing to improve the wellbeing of the person they care for while promoting dignity and independence.You must be passionate and have conviction that you are willing to embark on this journey.
Becoming A Caregiver.
Becoming a certified caregiver makes you an expert in the caregiving world either home or abroad.
Some organizations only hire certified caregivers especially when you get your certificate from reputable caregiving company like ours.
Additionally, certification is necessary for people that are entitled to receiving payments from healthcare and home care companies.
Our Packages
2 weeks
4 weeks
6 weeks
8 weeks
For More Information
Contact Us Via Whatsapp or Phone Call on 07060851423 or 08025752474
Email: bluegatehomecare@gmail.com, info@bluegatehomecare.com,caregivers@bluegatehomecare.com